Favorite Links
Links to Other Karate Schools and Organizations
The following is a list useful links that I have compiled. If you wish to be added to this list, please send me an e-mail.
Favorite Sites
The web site of the World Okinawan Shorin-Ryu Karate & Kobudo Association, created by the late Hanshi Sid Campbell-10th Dan.
Web site of Hanshi Dan Tosh-10th Dan's karate school located in Brentwood, California. Hanshi Dan Tosh is the co-founder of WOSKKA, along with Hanshi Sid Campbell-10th Dan.
Web site of Kyoshi George Del Cid-7th Dan, high ranking black belt student of Hanshi Dan Tosh.
Website of association founded by Shihan Nathan Ogden of West Plains, MO. Kyoshi Sid Rayford serves on the board of Accreditation and Technical Advisors for this association.
Tiger Claw is a high-end manufacturer and distributor of martial arts supplies.
A listing of dojos throughout the United States with instructor biographies and much more.
Web site of martial arts uniforms and supplies with very competitive pricing for all products.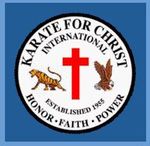 Karate for Christ International
Very affordable martial arts school liability coverage. Low down payment and reasonable monthly installments.
Web site of Kyoshi Tim Evans-Kyoshi Sid Rayford's first Shorin-Ryu teacher and Beikoku Shorin-Ryu Association co-founder and president.
Web site of Renshi Robert White of Lemoore, Ca., co-founder of Beikoku Shorin-Ryu Association and life-long friend of Kyoshi Tim Evans.
Web site of Hanshi Barry Moyer of Walkerton Indiana. Hanshi Moyer is an executive board member of WOSKKA.
Henderson Shorin Ryu Karate
158 Market St.
Coos Bay, Or 97420
541-404-6307